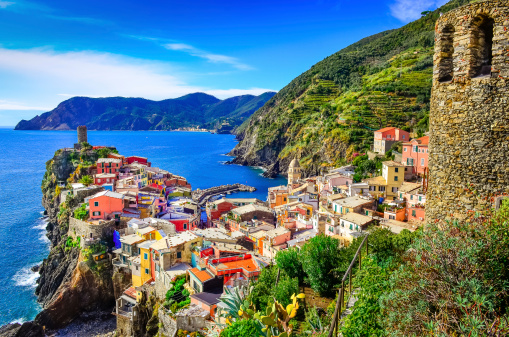 Trafalgar and The Cinque Terre
When referring to Cinque Terre, many simply say they've visited Cinque Terre as in, "I visited Cinque Terre". What many don't realize is that Cinque Terre means Five Villages: Cinque Five & Terre Land or in this case, Village or Villages. Therefore, when referring to Cinque Terre, it should be as, "I visited The Cinque Terre". Why? Because it's more than just one place that make The Cinque Terre.
Now that we've made it over that hump, let's jump into the business of getting to know each of the five beautiful villages:

Monterosso al Mare: is the most northern village of all The Cinque Terre. In addition to that, Monterosso al Mare is the largest of all the villages and due to the lack of vertical access to its plane, there are more streets and cars, which means less climbing. If your wish during your vacation is to avoid climbing stairs, then this is the Terre you should stay at.

Vernazza: is the most popular of all The Cinque Terre. Vernazza is not the largest and neither the smallest of all The Cinque Terre, and even though there is one street that flows through the entire town, it is absolutely beautiful!

Corniglia: is by all accounts the smallest of all five villages. Corniglia was also built on the cliffs, way over sea level where it literally takes 365 semi-vertical steps to arrive at. Although beautiful, she is indeed a conundrum... If you're looking to get away from it all, this is exactly the place to be, BUT if you are carrying around lots of luggage, it is the last place you want to be.

Manarola: is similar to two of her other sisters, Vernazza and Riomaggiore... Manarola is a one street village and even though you may not know it yet, it's also lively like Riomaggiore!

Riomaggiore: is the most liveliest of all The Cinque Terre... Riomaggiore has over a dozen restaurants, a pharmacy, a church, and great train connections!
Guided vacations of The Cinque Terre are becoming more and more popular with operators such as Trafalgar Tours... Two of Trafalgar's The Cinque Terre tours are:
| | |
| --- | --- |
| | Wonders of Italy *NEW* |
| | Northern Italy Including Cinque Terre |